OSHA rule to require vaccine mandates or weekly tests
Posted September 10, 2021
In a September 9 speech, President Biden announced that private employers with at least 100 employees will need to ensure that employees are either vaccinated or tested for COVID-19 weekly before coming to work. The provisions will be in a forthcoming emergency temporary standard from the U.S. Department of Labor's Occupational Safety and Health Administration (OSHA). Employers may, however, choose to require the vaccine without allowing for a testing option.
The new emergency temporary standard will also require covered employers to give their employees paid time off to get vaccinated and to recover from post-vaccination reactions.
Failure to comply can result in fines of up to almost $14,000 per violation.
Neither the White House nor OSHA provided details on when to expect the new emergency standard. Legal challenges are expected, but the plan could provide employers a clear path to vaccine mandates. It remains unclear whether the mandates will include remote workers.
The plan, which is intended to combat the Delta variant, will also include an expansion of free testing.
Beyond the private sector, a new executive order requires federal government employees and federal contractors to be vaccinated; they will no longer have the option to get tested as they had in the past.
Employees at health care facilities that receive federal Medicare or Medicaid will also need to be fully vaccinated.
The overall plan will affect about 100 million Americans.
This article was written by Darlene Clabault of J. J. Keller & Associates, Inc.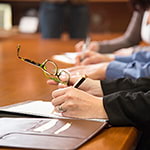 Looking for more on HR compliance?
Get the information and products you need to stay on top of industry changes and comply with regs.