New adverse driving conditions exception provides more flexibility
Posted September 23, 2020
Revisions to the adverse driving conditions exception will give truck and bus drivers extra time to complete their runs after encountering unexpected delays caused by weather or traffic conditions.
This revision is just one of four major changes to the hours-of-service (HOS) rules going into effect September 29, 2020. Other areas include:
The sleeper-berth provisions,
The 30-minute break rule, and
The 100-air-mile exception.
In this final installment of our four-part series on the new HOS rules, the adverse driving conditions provision will be summarized. Three previous articles addressed the sleeper berth provisions, 30-minute break, and 100 air-mile exception, respectively.
What changes?
Revisions to §395.1(b)(1) allow drivers to extend both their driving and on-duty limits by 2 hours. The old rule only permitted drivers to extend their driving limit, but not their on-duty limit, by 2 hours.
Truck drivers subject to the 14-hour limit will be most affected by the changes.
Benefits of the new rule
With the expanded hours, more drivers will be eligible to use the exception to wait out unexpected weather or traffic conditions, rather than trying to "race the clock" to complete the run. Drivers will have an added cushion of on-duty time when using the exception. All driving (up to 13 hours for truck drivers or 12 hours for bus drivers) will need to be done within 16 consecutive hours for truck drivers or 17 on-duty hours for bus drivers.
Cautions when using the exception
The allowable uses of this exception remain relatively narrow. See the definition of "adverse driving conditions" in §395.2.
Motor carriers are obligated to make sure the adverse conditions were unknowable at the time of dispatch. Motor carriers and drivers should check traffic and weather conditions before starting a run.
Motor carriers should make sure drivers are aware that they cannot use this exception for routine weather or traffic delays. The delay must be unexpected, and it cannot be due to normal rush-hour traffic, vehicle breakdowns, loading or unloading delays, or an inability to find parking.
Though not required, drivers should be advised to enter a note on their log to indicate when they're using the exception and why. Consider requiring this under company policy.
Key to remember: Use of this exception is rare today and will continue to be rare under the new rules.
This article was written by Kathy Close of J. J. Keller & Associates, Inc.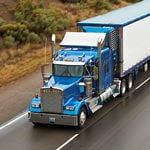 Looking for more on transportation safety?
Get the information and products you need to stay on top of industry changes and comply with regs.