Tracking employee's time helps employer win FMLA court case
Posted September 14, 2017
Many employers have an attendance policy that assesses points when employees have "occurrences." Enter Thelma (not her real name), an employee who had assessed a number of occurrences during her approximately two years with such a company.
This is where the real action begins.
On August 11, 2015, Thelma left work early because a previous occupational injury was acting up. The employer assessed a point against Thelma under its attendance policy. On October 25, Thelma's adult son was shot and admitted to a hospital. Thelma rushed to the hospital in the middle of the night. While there, she tried to contact her employer, but did not get through until the following morning. At that time, she was told that her absence would result in another occurrence, putting her job at risk.
Thelma asked if she could take time off under the Family and Medical Leave Act (FMLA) because of her son's condition (which was not good), and was told that because her son was over 18 years old and was not disabled, she could not. When asked what she could do to save her job, she was told that she could come into work for a half a day and receive only half an occurrence.
Thelma, however, was not going to leave her son. She was fired that day.
Thelma sued, arguing that the employer interfered with her FMLA rights.
The focus of the case revolved around whether Thelma was eligible for FMLA leave; particularly whether she had worked at least 1,250 hours in the 12 months before leave was to begin.
While Thelma argued that she had worked 1,250.4 hours, her employer argued that she had worked only 1,209.6 hours. The employer pointed out that the hours beyond the 1,209.6 were holiday hours, vacation hours, and floating holidays, not hours worked.
The employer also pointed out that some of the discrepancies involved "punch-in" and "clock-in" times. Employees were permitted to punch in up to 15 minutes before their shifts, but were not permitted to start working until the shift began. Thelma included those 15 minutes in her calculation, while the employer did not, per the Fair Labor Standards Act.
Therefore, Thelma's calculated hours based strictly on the clock-in/clock-out times did not count toward the requisite 1,250 hours.
Another discrepancy involved meal breaks. Thelma argued that she worked through meal breaks eight out of ten days during the period in question. This could account for four more hours. But that would bring her total hours up to only 1,213.6.
The final discrepancy involved hours Thelma spent at (or traveling to and from) medical appointments. The employer argued that those hours did not count as hours worked, because Thelma was on leave during the times she attended medical appointments; not working, and the extra hours would be added only when Thelma would have been attending appointments when she was working. It didn't matter much, as even if they would be added to the balance, Thelma would have only 1245.92 hours.
Based on the math that the employer had worked out, the court found that Thelma did not meet the 1,250-hour eligibility threshold. Therefore, she was not entitled to FMLA leave.
Germundson v. Armour-Eckrich Meats, LLC; No. C-16-3103-LTS, August 18, 2017.
This article was written by Darlene Clabault of J. J. Keller & Associates, Inc.
---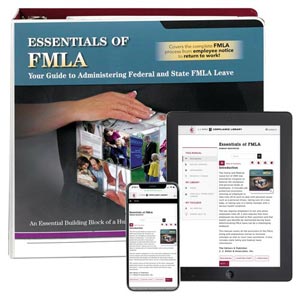 Learn more about products and services that provide you with confidential, consistent, high-quality leave management on our FMLA resource page.
---
J. J. Keller's FREE HRClicks™ email newsletter brings quick-read human resources-related news right to your email inbox.