Offering COBRA during workers' compensation leave
Posted September 1, 2016
A serious work-related injury could keep an employee off work for weeks or even months. In such a situation, you may wonder about your obligation to continue group health coverage during the absence. Workers' compensation laws do not require benefit continuation, but other laws may.
If your company offers group health coverage and has 20 or more employees, the Consolidated Omnibus Budget Reconciliation Act (COBRA) applies. This law requires you to give employees the option of continuing group health coverage at their own expense after a qualifying event.
One qualifying event is a reduction in hours resulting in a loss of coverage. This could occur due to workers' compensation leave, so an employee could be entitled to a COBRA offer during an extended absence to recover from a work-related injury.
Termination?
If the employee is not expected to return in the next several months, you may have the option to terminate (which is also a COBRA-qualifying event). However, you shouldn't fire every employee who needs extended workers' comp leave. This could create the impression that you retaliate against employees for filing injury claims, which may violate state law.
In addition, granting unpaid leave may be a reasonable accommodation under the Americans with Disabilities Act (ADA), which applies to employers with 15 or more employees. Granting unpaid leave may be reasonable, particularly if offering COBRA allows you to stop paying your share of the health insurance premiums.
If an employee is likely to return in a few weeks, offering COBRA may be more trouble than it's worth, since the employee could re-join the health plan upon returning to work (so it may not be worth dropping coverage, only to reinstate the employee a few weeks later). However, if the employee will be out for several months, offering COBRA may be feasible. An employee who is not receiving wages and was offered COBRA should generate minimal costs for the employer, and granting such leave helps avoid the potential risks of terminating the employee.
Large and small employers
Small employers (those with fewer than 50 employees) have more options than large employers because fewer laws apply.
A private company with 50 or more employees is covered by the Family and Medical Leave Act (FMLA) and by the shared responsibility provisions of the Affordable Care Act (ACA). FMLA leave may run concurrently with workers' compensation and it requires continuing group health coverage, so offering COBRA is not an option during FMLA leave.
Also, large employers may use measurement and stability periods under the ACA, and coverage cannot be lost during a stability period, so COBRA may not apply until the stability period ends.
Small employers don't have to use measurement and stability periods because those provisions do not apply to them.
---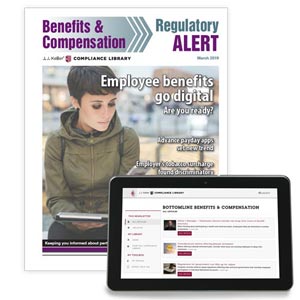 J. J. Keller's BottomLine Benefits & Compensation is an 8-page, monthly newsletter that addresses key issues relating to benefits and compensation programs.
---
J. J. Keller's FREE HRClicks™ email newsletter brings quick-read human resources-related news right to your email inbox.