Workplace deaths due to unintentional overdoses continue to rise
Posted August 24, 2023
Workplace deaths due to unintentional overdoses from substances such as methamphetamine and fentanyl continue to rise. Bureau of Labor Statistics (BLS) data show 2021 marked the ninth consecutive year of an increase in workplace fatalities from accidental overdoses.
There were 464 workplace fatalities resulting from overdoses caused by nonmedical use of drugs and alcohol in 2021, a 19.6 percent increase from 2020. These deaths represent more than half of the cases in the broader category of exposure to harmful substances or environments, where the number of workplace fatalities was 798.
In 2021, there were 5,172 fatal work injuries, including:
Transportation incidents – 1,982
Falls, slips, and trips – 850
Exposure to harmful substances or environments - 798
Violence and other injuries – 761
Contact with objects and equipment – 705
Fires and explosions - 76
More information on work-related deaths can be found at bls.gov.
This article was written by Carmen King of J. J. Keller & Associates, Inc.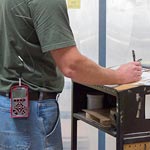 Looking for more on workplace safety?
Get the information and products you need to stay on top of industry changes and comply with regs.