Safe and Sound Week highlights importance of workplace safety and health programs
Posted August 4, 2023
Safety and health (S&H) hazards can lead to worker illnesses and injuries, so it is important to have safeguards in place to minimize these hazards. Each year, OSHA's Safe + Sound Week brings awareness to the importance of workplace S&H programs. Mental health and well-being are the focus of this year's event, to be held August 7-13. OSHA will provide resources on its Safe + Sound webpage prior to the event.
In 2022, over 3,300 businesses participated by holding toolbox talks and other safety-related activities that highlighted their workplace S&H programs. By developing and implementing S&H programs and promoting a safety culture, businesses can limit or prevent injuries and illnesses, reduce workers' compensation costs, and improve productivity.
Assistant Secretary for Occupational Safety and Health Doug Parker stated, "We want businesses to have a system, not just good intentions, and make safety a core value for every worker in every workplace."
This article was written by Carmen King of J. J. Keller & Associates, Inc.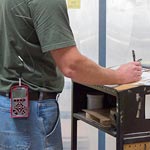 Looking for more on workplace safety?
Get the information and products you need to stay on top of industry changes and comply with regs.