New driver physical exam form required on September 7
Posted August 12, 2021
The Federal Motor Carrier Safety Administration (FMCSA) released a revised version of its Medical Examination Report form (long form) with a September 7, 2021, compliance deadline.
The updated form includes a variety of minor technical changes, the most prominent of which is removal of the driver's gender from Section 1. The new form was part of a larger package of technical corrections to the Federal Motor Carrier Safety Regulations issued July 7, 2021.
The new medical form retains the "OMB expiration date" of 11/30/2021 in the upper-right corner. This means the form will need to be updated yet again before the end of November this year.
Motor carriers are encouraged to ensure their medical examiners are using the new form starting September 7, 2021. In addition, watch for news of another new medical form and certificate later this year.
This article was written by Kathy Close of J. J. Keller & Associates, Inc.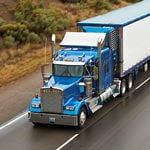 Looking for more on transportation safety?
Get the information and products you need to stay on top of industry changes and comply with regs.