Is long COVID an FMLA serious health condition?
Posted August 27, 2021
At the end of July, President Biden indicated that long COVID can be a disability under various federal civil rights laws, one of those laws being the Americans with Disabilities Act (ADA). If the condition can be a disability, could it also be a serious health condition under the FMLA? In short, yes.
People with long COVID have a range of new or ongoing symptoms that can last weeks or months after they are infected with the virus and the symptoms can worsen with physical or mental activity. Therefore, if employees are unable work because they have the following example symptoms, they might have long COVID:
Tiredness or fatigue
Difficulty thinking or concentrating (sometimes called "brain fog")
Shortness of breath or difficulty breathing
Headache
Dizziness on standing
Fast-beating or pounding heart (known as heart palpitations)
Chest pain
Cough
Joint or muscle pain
Depression or anxiety
Fever
Loss of taste or smell
Some people also experience damage to multiple organs including the heart, lungs, kidneys, skin, and brain.
As with any condition for which an employee requests leave that could be FMLA-qualifying, go through the FMLA process. Ask for a certification supporting the need for leave and compare the information in the certification to the FMLA's definition of a serious health condition. You can find the definition on the fourth page of the certification.
Long COVID could meet the part of the definition that deals with a period of incapacity of more than three days along with treatment. It could also be considered a chronic or even a long-term condition.
Long COVID won't always be an FMLA serious health condition, but it certainly could be, depending upon the intensity of the symptoms. A mild headache might not result in an employee being incapacitated, but a severe headache might.
This article was written by Darlene Clabault of J. J. Keller & Associates, Inc.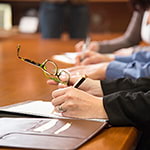 Looking for more on HR compliance?
Get the information and products you need to stay on top of industry changes and comply with regs.