Gaiters getting a bad rap for COVID-19 protection?
Posted August 14, 2020
If you've read the news recently, you've seen that a recent study showed that some types of gaiters (coverings pulled up from the neck) actually increase the spread of airborne droplets from the wearer. However, it's not the gaiter-style that's problematic, it's the fabric that some are made of.
J. J. Keller and Associates, Inc., spoke to one of the study's co-authors, Isaac Henrion, who said that gaiters designed specifically as face coverings for COVID-19 are probably okay. It's the stretchy type, typically found in fishing and outdoor stores, that may be problematic.
"The gaiter-style that we tested was made of a thin, stretchy material, where if you stretched it you could see light through it," says Henrion, who is Coordinator of Cover Durham, which aims to help provide access to masks throughout the Durham, North Carolina area.
The problem with the stretchy fabric, according to Henrion, is that it actually split the larger droplets into smaller ones, which are lighter, and stay in the air longer, leading to more risk of exposure.
"Any mask made from that fabric would probably have the same result, no matter the design," Henrion said.
On the other hand, Henrion said that a gaiter style that was made with tightly woven cotton or polypropylene (which is the material used in surgical masks) would almost certainly be very effective at containing droplets.
So, bottom line, employers should remind employees that gaiters made of a thin stretchy polyester material – where you can see the light pass through – are probably not effective at containing droplets, nor would any style of mask made from that material. But, the gaiter style itself is not a dealbreaker!
This article was written by Rachel Krubsack of J. J. Keller & Associates, Inc.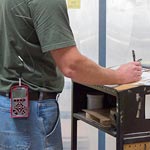 Looking for more on workplace safety?
Get the information and products you need to stay on top of industry changes and comply with regs.