Cal/OSHA issues updated respirator guidance for healthcare employers
Posted August 20, 2020
Cal/OSHA recently issued updated guidance for healthcare employers facing shortages of respirators during the coronavirus pandemic. It replaces guidance issued on June 12 and is subject to change as circumstances evolve.
The guidance recommends engineering controls and work practices to help minimize the need for respiratory protection and provides strategies for extended respirator use and optimizing supplies.
Engineering and work practice controls include:
Minimizing the number of employees exposed to suspected and confirmed COVID-19 patients by using barrier enclosures that cover a patient's head and upper body;
Masking suspected and confirmed COVID-19 patients whenever employees are not using a respirator;
Training employees on additional precautions and changes to the Aerosol Transmissible Diseases (ATD) Plan when respirators cannot be obtained, or when there are changes to procedures such as respirator reuse or extended use; and
Informing employees and their representatives that the changes are only in effect until respirator supplies can be restored, and keeping them updated on status changes.
Strategies for extending respiratory supplies include:
Using reusable NIOSH-certified respirators instead of disposable filtering facepiece respirators,
Using NIOSH-certified industrial filtering facepiece respirators,
Allowing employees to wear their own respirator if it complies with Cal/OSHA requirements,
Using fit testing methods that maximize respirator supplies and fit testing efficiency,
Using certain expired NIOSH-certified filtering facepiece respirators, and
Storing disinfected filtering facepiece respirators in case of future shortage.
This article was written by Rachel Krubsack of J. J. Keller & Associates, Inc.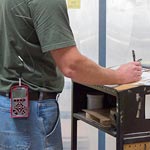 Looking for more on workplace safety?
Get the information and products you need to stay on top of industry changes and comply with regs.