NIOSH evaluates electronics recycling facility, makes recommendations
Posted August 23, 2019
In a recent Health Hazard Evaluation Program report, the National Institute of Occupational Safety and Health (NIOSH) discussed its evaluation of an electronics recycling facility and subsequent recommendations for both the employer and employees. The evaluation was in response to a request from the company's managers, who were concerned about workers' exposure to metals and flame retardants, as well as ergonomic stressors and occupational noise.
During two inspections conducted in 2016 and 2017, investigators collected surface, hand wipe, and air samples; blood samples; and urine samples. They also measured peak sound pressure levels at equipment and observed employees for possible ergonomic hazards.
Based on its findings, NIOSH recommended the employer:
Include all processing employees in a lead exposure prevention program.
Provide employees with a lead-removing product for hand washing.
Re-train employees on proper wear and use of respirators and ear plugs.
Replace worn anti-fatigue mats.
Provide adjustable workstations.
NIOSH recommended that employees:
Wash hands with a lead-removing product before eating, drinking, smoking, or leaving work.
Do not dry sweep and instead use wet cleaning methods or high-efficiency particulate air vacuuming. Use a magnetic sweeper to remove metal scraps or loose screws from the work area.
Wear ear plugs and respirators correctly.
Use anti-fatigue mats and overhead workstation lights.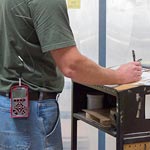 Looking for more on workplace safety?
Get the information and products you need to stay on top of industry changes and comply with regs.