Court: EEOC went too far with its criminal hiring guidance
Posted August 12, 2019
Many employers have been relying on a 2012 Equal Employment Opportunity Commission (EEOC) guidance regarding hiring applicants with criminal records. Based on the guidance, employers are to work to ensure that any criminal activity would need to be related to the job in order for an applicant to be rejected. Therefore, blanket policies rejecting applicants with criminal records were frowned upon.
Enter the Fifth Circuit Court of Appeals
In Texas v. EEOC, the Fifth Circuit held that the EEOC went too far with its guidance. The EEOC, said the court, may issue only procedural regulations implementing Title VII of the Civil Rights Act, and may not promulgate substantive rules, and the guidance amounts to a substantive rule issued without notice and the opportunity for comment.
The primary distinction between a substantive rule — which is, by definition, a final agency action and a general statement of policy, turns on whether an agency intends to bind itself to a particular legal position.
What matters is whether the document affects private parties such that they are reasonably led to believe that failure to comply will bring adverse consequences. Such was the case with the EEOC guidance, as EEOC staff could decide whether an employer violated Title VII with hiring policies that did not include individual assessments of an applicant's criminal background. The guidance also prescribes a multi-factor framework for employers to use in designing "targeted exclusion" policies that EEOC staff must presumptively follow in determining whether an employer's felon-hiring policy violates Title VII.
The EEOC argued in part that the guidance did not have legal consequences since it applies only to how it investigates a discrimination charge and decides whether to issue a right-to-sue letter. The EEOC staff haven't authority to impose penalties for non-compliance. While this might be true for public employers, if the EEOC brings a claim against a private employer, it can bring enforcement action.
Texas contended that EEOC lacked power to promulgate the guidance at all. The guidance, not Title VII, condemns blanket felon-hiring policies; and it, not Title VII, pressures employers to change their policies and practices or risk referral by EEOC.
The court agreed that the guidance is a substantive rule, which would be subject to the notice-and-comment requirement, and that EEOC thus overstepped its statutory authority in issuing it.
The decision now puts the enforcement of the EEOC's guidance in slight question. The ruling, however, applies only to the state of Texas at this time, not all employers. Employers in the 5th Circuit (Texas, Louisiana, and Mississippi) might be the first to benefit from any ripple effect of this decision, but employers should not immediately move to revise their hiring policies. Courts can still see such policies as discriminatory.
This ruling comes at a time when the HR world is beginning to be more accepting of applicants with criminal backgrounds and many states have or are considering ban-the-box provisions.
Stay tuned!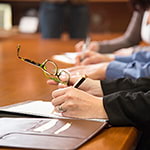 Looking for more on HR compliance?
Get the information and products you need to stay on top of industry changes and comply with regs.