Count non-binary employees in the EEO-1 comment box
Posted August 30, 2019
Employers have until September 30, 2019 to complete EEO-1 information, including the new pay data. The forms currently provide an entry for employee gender of either male or female. More and more employees, however, might want to indicate they are non-binary (neither male or female). As an employer, this situation might warrant some consideration.
The Equal Employment Opportunity Commission (EEOC), who enforces the EEO-1 requirements, has come through with a way to handle such a situation: Use the comment box. Employers may report employee counts and labor hours for non-binary gender employees by job category and pay band and racial group in the comment box on the Certification Page. To do so, preface this data with the phrase "Additional Employee Data:". Use, for example, "Additional Employee Data: 1 non-binary gender employee working 2,040 hours in Job Category 4, Salary Pay Band 5, Race/ethnicity non-Hispanic White. 3 non-binary gender employees; combined work hours 5,775; in Job Category 5, Salary Pay Band 8; Race/ethnicity: Employee 1 – Non-Hispanic Black, Employee 2 – Hispanic, Employee 3 – Two or more races."
The EEOC asks that you use this example, and not provide more information than is actually needed.
The guidance does not mean that employers should hunt down or attempt to discern employees who identify as non-binary. Employers are not mandated to include this option, but are now allowed to do so. If employees do wish to identify as non-binary, employers now have a way to capture this.
According to the National Institute for Health, approximately 1 million Americans identified as non-binary as of 2015. This number was expected to grow, in part because the concept is more widely accepted and more states and other government entities are allowing individuals to indicate a non-binary gender on official identification forms.
Non-binary individuals have a gender identity that differs from the sex they were assigned at birth. They could be transgender, those whose gender has both male and female elements, or something simply not male or female. Some people choose not to identify with any gender, while the gender of others might fluctuate. Some folks might use the terms genderqueer, agender, or bigender.
The September 30 deadline for filing EEO-1 reports is fast approaching. Knowing how to handle potential situations ahead of time can help reduce concerns and resources otherwise needed to get answers to related questions.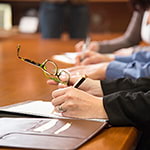 Looking for more on HR compliance?
Get the information and products you need to stay on top of industry changes and comply with regs.