Company found in contempt of court for failing to pay OSHA penalties
Posted August 19, 2019
The U.S. Court of Appeals for the Third Circuit has found a New Jersey construction company and its president in contempt of court for failing to pay $412,000 in penalties assessed by OSHA. OSHA cited the company for numerous safety violations, including multiple willful violations of the Agency's fall protection standards. The court previously ordered the company and its president to pay the fine after the Occupational Safety and Health Review Commission (OSHRC) affirmed the violations.
The court's July 25, 2019, contempt judgment specifies that the company's president is liable for the full amount of the penalty if the company does not pay. If the company and its president do not fully pay within 30 days or show the court why they cannot do so, the Secretary of Labor is to propose a daily penalty for the court to assess.
The court's ruling is the result of lengthy litigation by the Department's Office of the Solicitor including multiple hearings before the OSHRC and the court of appeals to affirm the company's violations of OSHA's safety requirements and remedy the company's longstanding refusal to pay the associated penalties.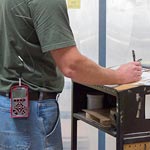 Looking for more on workplace safety?
Get the information and products you need to stay on top of industry changes and comply with regs.