NIOSH updates step-by-step guide to workplace ergonomics programs
Posted August 4, 2017
The National Institute of Occupational Safety and Health (NIOSH) recently updated its step-by-step guidance to creating, implementing, and maintaining a workplace ergonomics program. NIOSH says work-related musculoskeletal disorders (MSDs) are costly and can significantly reduce worker productivity and morale.
The Elements of Ergonomics Program website, developed and revised by the NIOSH Musculoskeletal Disorders Research Program, provides basic information for employers, workers, and others in designing an effective program to prevent work-related musculoskeletal disorders. The original document was published in 1997.
NIOSH defines "ergonomics," as "the science of fitting workplace conditions and job demands to the capabilities of the working population."
The updated guidance is aimed primarily at minimizing physical exertion for jobs that involve lifting and handling objects. NIOSH stresses that the program does not address jobs that involve lifting people. Ergonomics programs designed for lifting and mobilizing patients require specialized equipment and knowledge.
According to the Bureau of Labor Statistics, 31 percent of nonfatal occupational injuries and illnesses in 2015 were related to MSDs. Employees suffering from MSDs spent an average of 12 days away from work, compared to 8 days off for other types of work-related injuries. NIOSH says ergonomics programs allow employers to detect work-related MSD problems and develop solutions to them, which prevents further losses in productivity, quality, and profit. These programs also lower rates of absenteeism, lost time injuries, and Workers' Compensation premiums.
Musculoskeletal disorders (MSDs) are disorders of the muscles, nerves, tendons, ligaments, joints, cartilage, or spinal discs. Many MSDs are linked to the work environment and the performance of work activities. Work-related MSDs may be made worse or longer lasting by jobs that require employees to:
Lift, push, pull, or carry many objects, or irregularly shaped objects;
Maintain awkward or unnatural postures;
Work in cold temperatures;
Work with vibrating machinery and tools; and
Engage in intense, frequent, and long-lasting activities.
Designing an effective ergonomics program means understanding facility-specific work-processes, job tasks, equipment, and workplace layouts. NIOSH encourages employers to develop a proactive engineering approach that eliminates the risk factors for workplace MSDs in that job.
The updated NIOSH guide provides step-by-step assistance in evaluating and addressing musculoskeletal concerns in the workplace.
The six steps include:
Identify risk factors.
Involve and train management and workers.
Collect health and medical evidence.
Implement your ergonomic program.
Evaluate your ergonomic program.
Maintain involvement.
Ergonomics programs are intended to supplement existing occupational health and safety management systems.
---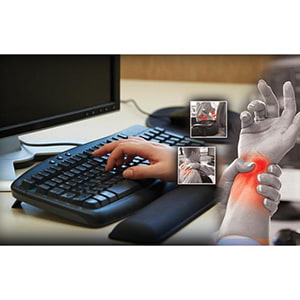 J. J. Keller's Office Ergonomics - Online Training Course helps employees identify ergonomic risks in their workplace and reduce risk of ergonomic-related injuries.
---
J. J. Keller's FREE Workplace SafetyClicks™ email newsletter brings quick-read workplace safety and compliance news right to your email box.