More women workers are taking on side jobs, survey shows
Posted August 25, 2017
Nearly a third of workers have a side gig (32 percent) — compared to 29 percent last year, according to new research. And more women than men have side jobs — 35 percent vs. 28 percent.
While having a side gig is popular across demographics, it's more popular for some. The new CareerBuilder research shows:
By age, those under 35 are more likely to have a side hustle (41 percent) versus those over 35 (27 percent).
By race/ethnicity, African American workers (46 percent) and Hispanic workers (40 percent) are more likely than White (29 percent) and Asian (26 percent) workers to have a side hustle.
How much money is enough money?
Workers of all income levels are taking on extra work. One in 4 workers making more than $75k (25 percent) and 19 percent of those making more than $100k currently have a gig outside of their full-time job. This is compared to 35 percent of workers making below $50k and 36 percent earning below $35k.
Broken down by industry or function, leisure and hospitality (42 percent), transportation (36 percent), and health care (34 percent) workers report having a side gig, followed by:
Retail: 32 percent
Manufacturing: 31 percent
Sales: 30 percent
Financial services: 27 percent
Information technology: 25 percent
What are workers doing?
Below are some of the types of side hustles workers are doing in addition to their regular work hours:
Survey taker
Babysitter
Chef/baker
Dog walker
Blogger
House sitter
DJ
Bartender
Where does an employee's loyalty lie?
Some workers may be taking on side hustles to help overcome the day-to-day drag of their day jobs. More than eight in 10 workers (82 percent) say they are not in their dream jobs, and 42 percent say they don't think they ever will be. A third of workers who are not in their dream job (33 percent) have a side hustle.
But those with side hustles aren't looking to leave their traditional jobs. Sixty-seven percent of workers with a side hustle do not want to turn their side gig into their day job and 71 percent of all workers don't plan to own their own business in the future. When asked if they're more passionate about their day job or side hustle, more said their day job (42 percent) than their side hustle (32 percent) or neither (25 percent).
Survey methodology
This survey was conducted online within the U.S. by Harris Poll on behalf of CareerBuilder among 3,696 employees ages 18 and over (employed full-time, not self-employed, including 3,462 in the private sector) between May 24 and June 16, 2017 (percentages for some questions are based on a subset, based on their responses to certain questions). With a pure probability sample of 3,696, one could say with a 95 percent probability that the overall results have a sampling error of +/- 1.61 percentage points. Sampling error for data from sub-samples is higher and varies.
---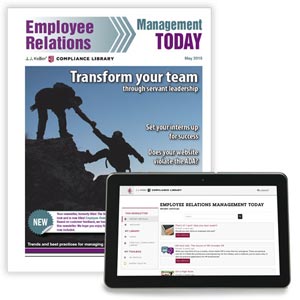 The SUPER adVISOR™ newsletter contains four pages dedicated to the HR manager and a corresponding four-page pullout dedicated to the needs of supervisors.
---
J. J. Keller's FREE HRClicks™ email newsletter brings quick-read human resources-related news right to your email inbox.