OSHA published Fatal Fact sheet on lethal exposure to methylene chloride
Posted August 17, 2016
OSHA recently published a Fatal Fact Sheet, Lethal Exposure to Methylene Chloride during Bathtub Refinishing. The publication is based on a fatal incident involving a worker using a methylene chloride-based stripper to remove coating from a bathtub.
Methylene chloride also called dichloromethane, is a volatile, colorless liquid with a chloroform-like odor. Methylene chloride is used in various industrial processes, in many different industries including paint stripping, pharmaceutical manufacturing, paint remover manufacturing, and metal cleaning and degreasing.
The most common means of exposure to methylene chloride is inhalation and skin exposure. OSHA considers methylene chloride to be a potential occupational carcinogen.
According to OSHA's Fatal Fact sheet, the worker's fatal injury was likely caused by exposure to high levels of methylene chloride. The worker was using paint remover on a residential bathtub containing 85-90 percent methylene chloride and the only ventilation was one open window. In small spaces and poorly ventilated settings, methylene chloride vapors rapidly reach toxic levels and reduce oxygen levels through displacement.
OSHA also says the following employer actions contributed to the worker's death. The employer did not:
Consider safer alternatives as a substitute for methylene chloride.
Evaluate methylene chloride exposures prior to beginning the work.
Evaluate and implement feasible engineering controls.
Provide a supplied air respirator where engineering controls were infeasible or ineffective.
Provide personal protective equipment (PPE) to prevent exposure through skin absorption.
Train workers to recognize the hazards and the protective measures needed when working with methylene chloride.
To prevent worker fatalities when using methylene chloride paint stripping products, OSHA says employers must:
Perform monitoring and air sampling to determine worker exposure to methylene chloride, §1910.1052(d)(2).
Provide and maintain effective engineering and work practice controls to reduce worker exposure to at or below 25 ppm as an 8-hour time- weighted average PEL or 125 ppm as determined over a 15-minute STEL, §1910.1052(f)(1).
Establish and implement a respiratory protection program in accordance with §1910.134. The program must cover issues such as proper respirator selection, medical surveillance, and worker training, to include proper respirator use, maintenance, and cleaning. A full-face, atmosphere-supplying respirator is currently the only acceptable respirator for methylene chloride.
Provide adequate ventilation, §1910.94. Bathroom fans and/or open windows do NOT provide adequate ventilation.
Provide workers with appropriate personal protective equipment and enforce its use, §1910.132 and §1910.1052(h).
Provide essential training to workers on methylene chloride hazards as required by OSHA's Hazard Communication standard, §1910.1200, and Methylene Chloride standard, §1910.1052(k) and (l).
OSHA reports 17 workers have died between 2000 and 2015 while using while using methylene chloride paint stripping products to refinish bathrooms.
---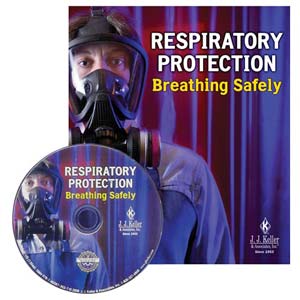 J. J. Keller's Respiratory Protection: Breathing Safely - DVD Training Program helps you satisfy OSHA's respiratory protection training requirements.
---
J. J. Keller's FREE Workplace SafetyClicks™ email newsletter brings quick-read workplace safety and compliance news right to your email box.