Illinois implements bereavement leave law
Posted August 19, 2016
Illinois has joined Oregon in mandating that employers provide bereavement leave. The law, effective upon signature on July 29, 2016, applies to the same employers that are covered under the federal Family and Medical Leave Act (FMLA). Employees are eligible for the bereavement leave if they are also eligible for FMLA leave. The bereavement leave, however, is limited to the death of a child.
Eligible employees are entitled to use up to two weeks or 10 work days of unpaid bereavement leave to:
Attend the funeral or alternative to a funeral of a child,
Make arrangements necessitated by the death of a child, or
Grieve the death of the child.
Under the law, a child is defined as an employee's son or daughter who is a biological, adopted, or foster child, a stepchild, a legal ward, or a child of someone standing in loco parentis. This, too, mimics the FMLA's definition. The Illinois law does not, however, place an age limit on the child. Therefore, the child is not limited to one under the age of 18.
The leave must be completed within 60 days after the date on which the employee receives notice of the death of a child.
Employees are to provide at least 48 hours' notice of the intention to take bereavement leave, unless providing such notice is not reasonable and practicable.
Employers may require reasonable documentation supporting the leave. This may include the following:
A death certification;
A published obituary; or
Other verification of death, burial, or memorial services from a mortuary, funeral home, burial society, crematorium, religious institution, or government agency.
If an employee experiences the death of more than one child in a 12-month period, he or she is entitled to up to a total of six weeks of bereavement leave during the 12-month period.
Employees may choose to substitute other forms of leave, which could allow them to receive pay during the otherwise unpaid bereavement leave.
While the law indicates that it does not create a right for an employee to take more leave than is allowed under the FMLA. Therefore, if an employee has exhausted his or her 12 weeks of FMLA in a 12-month leave year period, the employee will not thereafter be able to take bereavement leave under the Illinois law during that 12-month period. If, however, an employee first takes time off under the Illinois bereavement law, he or she will still have a full 12 weeks of FMLA leave. The bereavement leave cannot reduce an employee's FMLA leave entitlement.
The Illinois law prohibits employers from taking any adverse action against an employee for exercising his or her rights. Penalties for violating the law include $500 for the first offense, and $1,000 for subsequent offenses.
Reference: SB 2613, Illinois Public Act 099-0703
This article was written by Darlene Clabault of J. J. Keller & Associates, Inc.
---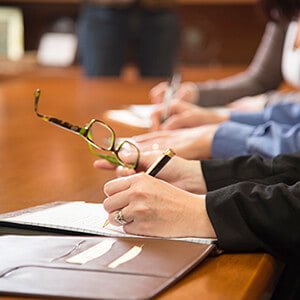 J. J. Keller's Family and Medical Leave Act (FMLA) Consulting Services can help your company ensure compliance with FMLA requirements and minimize the law's burden to your organization.
---
J. J. Keller's FREE HRClicks™ email newsletter brings quick-read human resources-related news right to your email inbox.