Do employees receive commission during FMLA leave?
Posted August 1, 2016
Karl was one of the company's best salesmen. Over the years he had created and maintained relationships with some of the top customers. When he asked Cindy, the HR Director, if he could have time off because his wife was about to have their second child, Cindy began thinking ahead to processing the request as time off under the Family and Medical Leave Act (FMLA). Then Karl said he expected he would receive commission on the sales he made before his leave would begin. In response, Cindy said she would look into the matter.
Cindy was wise to investigate. Generally, the FMLA entitles eligible employees to unpaid, job-protected leave. While neither the law nor the implementing regulations, however, specifically cover commission payments earned before leave begins, at least one court case did.
In the case, a sales person earned commission on a monthly basis. At one point, she required and took FMLA leave for about a month. Her employer did not pay her the commission she had earned prior to taking leave. The employee sued.
The employee argued that the FMLA required the employer to pay such commissions, and the employer took the other side of the argument.
The court referred to the pertinent part of the regulation:
If a bonus or other payment is based on the achievement of a specified goal such as hours worked, products sold, or perfect attendance, and the employee has not met the goal due to FMLA leave, then the payment may be denied, unless otherwise paid to employees on an equivalent leave status for a reason that does not qualify as FMLA leave. [825.215(c)(2)]
The court inferred that commissions are seen as bonuses. Therefore, the employee would need to have missed a specified goal because of FMLA leave in order to be denied the pay. She did not; her commission was part of her pay.
The employee also pointed out that two other employees had taken paid or unpaid leave and had received commission payments; leading to a disparate treatment issue.
Employees on FMLA leave are entitled to equivalent pay, which includes any bonus or other payment, whether it is discretionary or not.
Therefore, Cindy would need to pay the commission to Karl unless she could show that Karl did not meet the goals necessary to receive the commission and she did not otherwise pay the commission to other employees on a similar leave of absence.
Estes v. Meridian One Corporation, et al., Dist. Court, ED Virginia, No. Civ.A. 99-34-A, November 30, 1999.
This article was written by Darlene Clabault of J. J. Keller & Associates, Inc.
---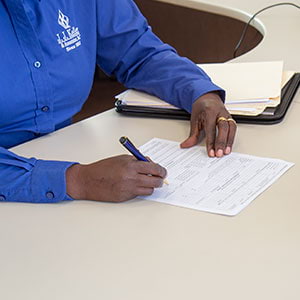 J. J. Keller's FMLA Program Administration Service provides you with confidential, consistent, high quality leave management.
---
J. J. Keller's FREE HRClicks™ email newsletter brings quick-read human resources-related news right to your email inbox.