OSHA issues heat hazard alert, steps up enforcement
Posted July 28, 2023
As temperatures soar across the nation, OSHA has issued a heat hazard alert reminding employers of their obligation to protect workers against heat illness or injury in outdoor and indoor workplaces. Employers should:
Provide workers with water, rest, and shade.
Allow new or returning workers to gradually acclimatize to the heat.
Train workers on heat illness prevention.
Monitor workers for signs of heat illness.
OSHA also will intensify its enforcement efforts where workers are exposed to heat hazards, with increased inspections in high-risk industries like construction and agriculture. These actions will fully implement the agency's National Emphasis Program on heat, issued in
April 2022, to focus enforcement efforts in geographic areas and industries with the most vulnerable workers.
This article was written by Rachel Krubsack of J. J. Keller & Associates, Inc.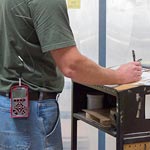 Looking for more on workplace safety?
Get the information and products you need to stay on top of industry changes and comply with regs.