Maine enacts new paid family and medical leave law
Posted July 20, 2023
On July 11, Maine Governor Janet Mills signed the state budget bill (LD 258) that included a new paid family and medical leave program. As more states adopt paid leave programs, employers must be up to date on what their obligations are with employees.
Funding
A one percent payroll tax, split evenly between employers and employees, will fund the leave. Employers with fewer than 15 employees, however, need not contribute. Funding begins January 1, 2025, and employees may begin taking leave May 1, 2026.
Leave entitlement Eligible employees (those who earned at least six times the state average weekly wage in a base period), may take up to 12 weeks of paid leave per benefit year. The benefit year is the 12-month period starting on the first day of the calendar week right before the date family or medical leave benefits begin.
Like the federal Family and Medical Leave Act (FMLA), employees may take the leave in three ways:
Continuously up to 12 weeks,
Intermittently in increments of not less than eight hours, or
On a reduced leave schedule otherwise agreed to by the employee and the employer.
Eligible employees may take leave upon hire. Employees apply for the paid benefits through a newly formed state Paid Family and Medical Leave Benefits Authority.
This agency must notify the employer within five business days of an employee filing a claim.
Reasons for leave
Employees may take Maine paid family and medical leave for the following reasons:
The employee's own serious health condition;
The birth of the employee's child or the employee's domestic partner's child;
The placement of a child 16 years of age or less with the employee or with the employee's domestic partner for the adoption of the child;
To bond with a child during the first 12 months after the child's birth or adoption or foster care placement;
To donate an organ for transplant;
To care for a family member with a serious health condition;
To address a military-related qualifying exigency;
To care for a family member who is a covered military service member;
For the death or serious health conditions of a spouse, domestic partner, parent, sibling, or child in the state military who died or sustained a serious health condition while on active duty;
For safe leave because the employee or the employee's family member is a victim of violence, assault, or sexual assault.
The law includes a seven-day waiting period for benefits when employees take the leave for their own condition. Employers must post a related notice and give new hires written information about the leave and how to file a claim. How does FMLA leave come into play?
Maine's paid family and medical leave runs concurrently with the federal FMLA if the employee is eligible for both, and the reason qualifies for both. Employers with employees working in Maine must consider their obligations under both state and federal leave laws.
This article was written by Darlene Clabault of J. J. Keller & Associates, Inc.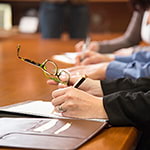 Looking for more on HR compliance?
Get the information and products you need to stay on top of industry changes and comply with regs.