Seven tips for reducing fuel costs
Posted July 22, 2022
Although fuel prices have gone down slightly, the current cost of diesel is significantly impacting motor carriers' operating costs.
The following are a variety of tips to help motor carriers increase fuel efficiency and improve the bottom line:
Install idle optimization systems, aerodynamic equipment, and speed-reducing governors.
Purchase low-resistance tires where practical and investigate tire pressure monitoring systems and auto inflation equipment.
Install in-cab heaters or engine pre-heaters and investigate APUs for idle reduction and auxiliary power.
Use fuel and route optimization software.
Plan routes in advance and consolidate loads with multiple stops. Reduce deadhead and empty miles by laying over drivers, if practical.
Lock down fuel caps, and leave fuel tanks empty when trucks are not being utilized.
Train drivers how to maximize fuel efficiency by:
Slowing down and using cruise control for open highway and flat terrain.
Upshifting one gear whenever possible to keep RPMs at the low end of the operating range.
Using progressive shifting.
Turning the truck off whenever possible to reduce idling.
This article was written by Daren Hansen of J. J. Keller & Associates, Inc.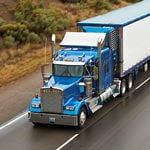 Looking for more on transportation safety?
Get the information and products you need to stay on top of industry changes and comply with regs.