OSHA to increase inspections at trenching, excavation sites
Posted July 20, 2022
A rise in trench-related fatalities has prompted OSHA to announce enhanced enforcement initiatives. In keeping with its National Emphasis Program (NEP), OSHA compliance officers will perform more than 1,000 trench inspections nationwide where they may stop by, and inspect, any excavation site during their daily duties.
OSHA says enforcement staff will consider every available tool at the agency's disposal. These actions will place additional emphasis on how agency officials evaluate penalties for trenching and excavation related incidents, including criminal referrals for federal or state prosecution to hold employers and others accountable when their actions or inactions kill workers or put their lives at risk.
In the first six months of this year, 22 workers have died while performing trenching and excavation work, surpassing 15 deaths in all of 2021.
This article was written by Rachel Krubsack of J. J. Keller & Associates, Inc.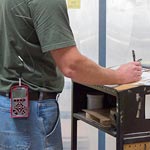 Looking for more on workplace safety?
Get the information and products you need to stay on top of industry changes and comply with regs.