Extreme heat prompts rules in OR, WA
Posted July 16, 2021
Extreme heat has prompted Oregon to adopt an emergency rule and Washington State to file an emergency rule, strengthening heat protection requirements for exposed workers.
Oregon's rule took effect July 8 and stays in place for 180 days. The requirements expand worker access to shade and cool water and include regular cool-down breaks, training, communication, emergency planning, and other measures. The temporary rule applies to any workplace – outdoors and indoors – where heat dangers are caused by the weather. Oregon continues to work on adopting a permanent heat stress prevention rule with an eye to adopting it this fall.
Washington State's rule took effect July 13 and is in addition to existing rules that are in place annually from May through the end of September. The emergency Outdoor Heat Exposure rule clarifies proactive steps that employers must take to prevent outdoor workers, including those in agriculture, construction, and other outdoor industries, from suffering heat-related illness. The state's Department of Labor & Industries will file an official notification for permanent rulemaking.
This article was written by Rachel Krubsack of J. J. Keller & Associates, Inc.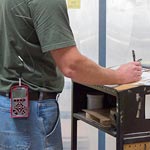 Looking for more on workplace safety?
Get the information and products you need to stay on top of industry changes and comply with regs.