Virginia adopts emergency temporary workplace safety standards for COVID-19
Posted July 22, 2020
On July 15, Virginia Governor Ralph Northam announced the adoption of statewide emergency temporary workplace safety standards in response to COVID-19. According to the Virginia Department of Labor and Industry (DOLI), the Emergency Temporary Standard (ETS) will take immediate effect upon publication in a newspaper of general circulation, published in the City of Richmond, Virginia. DOLI says it anticipates that publication of the ETS will occur during the week of July 27, 2020. The standard will remain in effect for six months and can be made permanent through the process defined in state law.
The standard requires all employers in Virginia to mandate social distancing measures and face coverings for employees in customer-facing positions and when social distancing is not possible, provide frequent access to hand washing or hand sanitizer, and regularly clean high-contact surfaces.
In addition, new standards require all employees be notified within 24 hours if a coworker tests positive for the virus. Employees who are known or suspected to be positive for COVID-19 cannot return to work for 10 days or until they receive two consecutive negative tests.
The emergency temporary standards (ETS), infectious disease preparedness and response plan templates, and training guidance will be posted on the Virginia Department of Labor and Industry website as they become available.
Covered employers will be given 60 days from the effective date of the ETS to develop and train employees on their Infectious disease preparedness and response plan, and 30 days to train employees on the standard.
This article was written by Rachel Krubsack of J. J. Keller & Associates, Inc.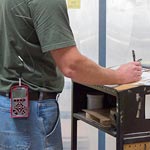 Looking for more on workplace safety?
Get the information and products you need to stay on top of industry changes and comply with regs.