Top 10 costliest injuries revealed in 2020 Liberty Mutual Workplace Safety Index
Posted July 31, 2020
The most disabling workplace injuries amounted to nearly $53 billion in direct U.S. workers' compensation costs, according to the 2020 Liberty Mutual Workplace Safety Index. This translates into more than a billion dollars a week spent by businesses on the most disabling injuries.
Employers may consider conducting training or refresher training for employees based on the top 10 list, ergonomic assessments, and/or job hazard analyses to help mitigate the potential for injuries.
| | |
| --- | --- |
| Injury | Cost (billions $) |
| Overexertion involving outside sources (handling objects) | $13.98 |
| Falls on same level | $10.84 |
| Struck by object or equipment | $6.12 |
| Falls to lower level | $5.71 |
| Other exertions or bodily reactions | $4.69 |
| Vehicle crashes | $3.56 |
| Slip or trip without fall | $2.06 |
| Repetitive motion involving microtasks | $2.05 |
| Struck against object or equipment | $2.00 |
| Caught in or compressed by equipment or objects | $1.92 |
The Liberty Mutual Workplace Safety Index is based on information from Liberty Mutual, the U.S. Bureau of Labor Statistics (BLS), and the National Academy of Social Insurance. BLS injury data are analyzed to determine which events caused employees to miss more than five days of work, and then ranks those events by total workers' compensation costs.
Reproduced with permission from Liberty Mutual Research Institute for Safety. Source: www.libertymutualgroup.com/researchinstitute
This article was written by Rachel Krubsack of J. J. Keller & Associates, Inc.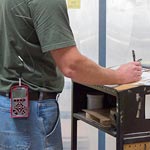 Looking for more on workplace safety?
Get the information and products you need to stay on top of industry changes and comply with regs.