Good vibrations? Study shows cars' vibrations can lead to drowsiness
Posted July 9, 2018
A new study published in the June 6, 2018, online journal Ergonomics seems to confirm what you always knew: driving makes you drowsy. The study, "The effects of physical vibration on heart rate variability as a measure of drowsiness," found that the low-level vibrations of cars and trucks can affect mental alertness within 15 minutes and become significant within 30 minutes.
Researchers investigated the effects of low frequency whole-body vibration on the nervous system using the Karolinska Sleepiness Scale, a measure of drowsiness. Study participants underwent two simulated one-hour-long driving tasks: One involved whole-body vibration through a car seat, and the other had no vibration. Within 15-30 minutes of exposure to vibration, autonomic activity increased, which was attributed to the stress of remaining alert and performing when becoming drowsy. This response peaked within 60 minutes.
The study's authors say that the effects of physical vibration on driver alertness need more investigation. In addition, the study's findings could spur innovations in vehicle ergonomics and lead to improvements in road safety, according to the researchers.
---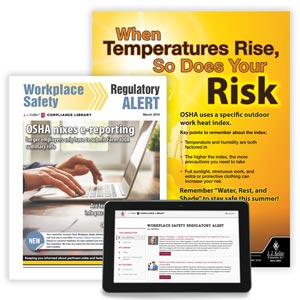 J. J. Keller's Workplace Safety Advisor covers important topics, including: hazard communication, OSHA Inspections, recordkeeping requirements, bloodborne pathogens, and lockout/tagout.
---
J. J. Keller's FREE Workplace SafetyClicks™ email newsletter brings quick-read workplace safety and compliance news right to your email box.