Coalition calls on states to adopt ELD laws
Posted July 23, 2018
Saying that electronic logging devices (ELD) should be as common as seat belts, a coalition of freight and logistics companies is calling on the states to adopt ELD requirements for in-state-only commercial truck drivers.
A new policy statement from the Trucking Alliance, a trade group that lobbies for safety regulations, says state legislatures need to follow the lead of Congress and adopt state-level ELD mandates.
"The [federal] ELD law is working," the statement says, but "ELDs are not currently required for large segments of the industry, such as drivers operating in intrastate commerce."
The Federal Motor Carrier Safety Administration (FMCSA) has required ELDs for most long-haul truck drivers since December 18, 2017, and "violations are down dramatically" since then, said Lane Kidd, managing director of the Trucking Alliance.
"Truck drivers no longer have paper log books to manipulate and falsify, and state legislatures should consider doing what Congress has done, and require all large trucks to install these devices to make sure drivers are obeying the law," Kidd said. "Electronic logging devices should be as common in large trucks as seat belts are."
3 years
Many states are already enforcing the ELD mandate for their in-state drivers, though some are providing extra time to get into compliance. Under 49 CFR Part 355, states generally have up to three years to adopt safety regulations that are "compatible" with any new federal requirements.
The new policy statement from the Trucking Alliance notes that ELDs are "simply recording devices" that don't affect the hours-of-service rules, but their use has reduced hours-of-service violations by nearly 50 percent.
"ELDs accurately and truthfully record a driver's actual on-duty driving time, unlike the paper log books that ELDs replaced and which could be easily manipulated," the policy reads.
---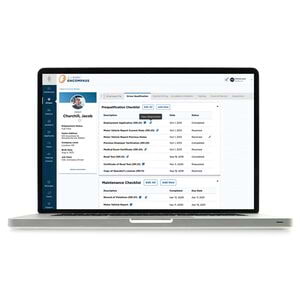 J. J. Keller® E-Logs - Compatible with iPad®, iPhone® and Android™ mobile devices. Affordable, flexible options from the nation's most respected transportation solutions provider.
---
J. J. Keller's FREE Transportation SafetyClicks™ email newsletter brings quick-read safety and compliance news right to your email box.