Bill designed to help employers address opioid use in the workplace passes House
Posted July 3, 2018
Jason Lewis (R-MN), introduced a bill (HR 5892) that would establish an Advisory Committee to inform the Secretary on actions the Department of Labor can take to provide informational resources and best practices on how to appropriately address the impact of opioid abuse on the workplace and support workers abusing opioids. The bill passed the House and was referred to the Senate in mid-June.
Opioid abuse is an epidemic nationwide, and it bleeds into all aspects of life including the workplace. Therefore, according to Lewis, in order to effectively combat this crisis, such a measure must include a workplace focus.
Under the bill, the Department of Labor would appoint, as members of the Advisory Committee, 19 individuals with expertise in employment, workplace health programs, human resources, substance use disorder, and other relevant fields to develop best practices and advise the Department of Labor on how the opioid crisis is affecting employees and what proactive steps employers can take.
In providing such advice, the Advisory Committee would need to take into account the following:
Evidence-based and other employer substance abuse policies and best practices regarding opioid use or abuse, including benefits provided by employee assistance programs or other employer-provided benefits, programs, or resources;
The effect of opioid use or abuse on the safety of the workplace as well as policies and procedures addressing workplace safety and health;
The impact of opioid abuse on productivity and absenteeism, and assessments of model human resources policies that support workers abusing opioids, such as policies that facilitate seeking and receiving treatment and returning to work;
The extent to which alternative pain management treatments other than opioids are or should be covered by employer-sponsored health plans;
The legal requirements protecting employee privacy and health information in the workplace, as well as the legal requirements related to nondiscrimination;
Potential interactions of opioid abuse with other substance use disorders;
Any additional benefits or resources available to an employee abusing opioids that promote retaining employment or reentering the workforce;
Evidence-based initiatives that engage employers, employees, and community leaders to promote early identification of opioid abuse, intervention, treatment, and recovery;
Workplace policies regarding opioid abuse that reduce stigmatization among fellow employees and management; and
The legal requirements of the Mental Health Parity and Addiction Equity Act and other laws related to health coverage of substance abuse and mental health services and medications.
HR 5892 is not the only opioid-related bill in Congress. Another such bill that passed the House (HR 6) would require prescription drug plan sponsors to establish drug management programs for at-risk beneficiaries, and, as a funding mechanism, would extend the amount of time that employer-sponsored health plans must cover end-stage renal disease under Medicare secondary payer rules from 30 months to 33 months.
This article was written by Darlene M. Clabault, SHRM-CP, PHR, CLMS, of J. J. Keller & Associates, Inc.
---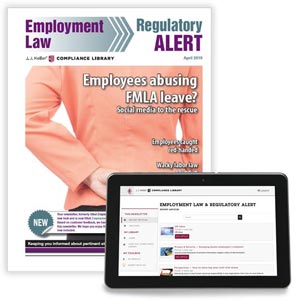 J. J. Keller's Employment Law Today newsletter explains why you need to care, what you need to do and how your business could be affected by HR industry news.
---
J. J. Keller's FREE HRClicks™ email newsletter brings quick-read human resources-related news right to your email inbox.