NSC releases eye-opening report on risks of worker fatigue
Posted July 31, 2017
Research by the National Safety Council (NSC) attributes 13 percent of workplace injuries to worker fatigue.
The report, "Fatigue in the Workplace: Causes & Consequences of Employee Fatigue," describes common causes of fatigue in the workplace and the risks that go along with being tired on the job. NSC found that all workplaces have at least some level of fatigue risk, and nearly every employee has at least one risk factor. As the risk factors increase, so do the risks. The nine risk factors identified in the report include:
Shift work,
High-risk hours,
Demanding jobs,
Long shifts,
Long weeks,
Sleep loss,
No rest breaks,
Quick shift returns, and
Long commutes.
NSC reports that workers need 7-9 hours of sleep every day in order to perform at an optimal level. Further, a person can become too fatigued to perform at a desired level after 16 hours awake.
The report shows that fatigue can affect basic cognitive functions and may not be noticed by workers or co-workers until they start to experience microsleeps, or nodding off. Symptoms of workplace fatigue to watch out for include decreased vigilance, memory, attention, and concentration.
NSC identified three levels of fatigue. These are:
Decreased cognitive performance,
Microsleeps, and
Increased safety risk.
NSC encourages employers to learn about the risk factors of fatigue and to take measures to mitigate those risks. In addition, NSC plans to release a second report on worker fatigue focusing on risky employer practices.
---
The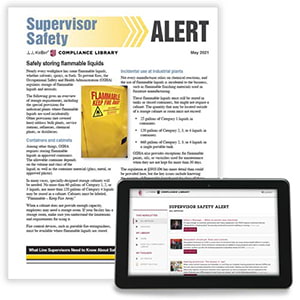 J. J. Keller® Supervisor Safety Alert newsletter addresses key safety-related issues affecting supervisors and their employees.
---
J. J. Keller's FREE Workplace SafetyClicks™ email newsletter brings quick-read workplace safety and compliance news right to your email box.