Get ready to swap out I-9s: Another new version is here
Posted July 17, 2017
On Monday, July 17, the federal agency responsible for the Form I-9 issued a new version. Employers may begin using the new form immediately, but they must begin using it by September 18, 2017. Before that date, employers may continue to use the form with a revision date of November 14, 2016.
What's new?
While other recent revisions to the Form I-9 have been considerable, some employers may barely notice the latest adjustments made by the United States Citizenship and Immigration Services (USCIS).
Most notably, the revisions include wording changes, including:
Changing the name of the Office of Special counsel for Immigration-Related Unfair Employment Practices to its new name, the Immigrant and Employee Rights Section.
Removing "the end of" from the phrase "the end of the first day of employment."
And changes to the Lists of Acceptable Documents, including:
Adding Consular Report of Birth Abroad (Form FS-240) as a List C document.
Combining all certifications of report of birth issued by the Department of State to fit in item 2 under List C.
Renumbering List C documents (because No. 2 and No. 3 are being combined). The list now includes just seven items.
Anybody have déjà vu?
If it seems employers were just handed a new Form I-9, that's because the previous version has been required for use only since January 22.
That revision contained more significant changes, including making the Form I-9 "smart" (incorporating data validation, on-screen help text, and drop-down lists). It also included wording changes and made room for more than one preparer/translator to be recorded on the form.
New forms all around?
One of the most common misconceptions employers have when a new Form I-9 is issued is that they must complete the new form with existing employees.
Employers must use the new form for newly hired employees on or before September 18, but they should not automatically complete new I-9s for existing employees.
Once an employer begins using the new form, it should use the new version any time an employee's form requires updating or reverification (though the employee's original form should be retained and attached to the new form).
---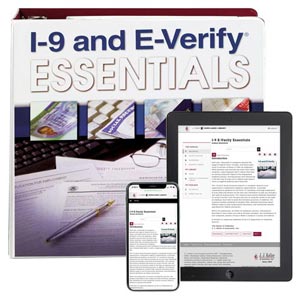 J. J. Keller's I-9 and E-Verify Essentials Manual contains up-to-date info on new Form I-9 requirements and the entire employment authorization process.
---
J. J. Keller's FREE HRClicks™ email newsletter brings quick-read human resources-related news right to your email inbox.