DOT proposes automatic brakes for heavy vehicles
Posted June 30, 2023
The U.S. Department of Transportation (DOT) has announced a proposed rule that would require all new vehicles weighing more than 10,000 pounds to have automatic emergency brakes (AEBs).
If finalized, the rule is expected to prevent over 19,000 crashes, 8,800 injuries, and 155 deaths, the DOT claims. The rule would be phased in over a five-year period for all new Class 3 to Class 8 vehicles. A retrofitting requirement for existing vehicles is not expected.
Most Class 8 trucks already have AEB as a standard feature. An AEB system uses multiple sensors to detect an imminent crash and automatically apply the brakes or supplement the driver's braking. The proposal calls for the system to work at speeds ranging from 6 mph to 50 mph.
There are about 60,000 rear-end collisions annually where the striking vehicle is 10,000 pounds or heavier.
The proposal also calls for more vehicles to be equipped with electronic stability control (ESC) systems, currently required on vehicles over 26,000 pounds. AEB systems are estimated to cost about $400 per vehicle, while ESC systems cost about $500 per vehicle.
The proposal would:
Amend vehicle manufacturing standards from the National Highway Traffic Safety Administration, and
Amend the Federal Motor Carrier Safety Regulations to require that ESC and AEB systems be on during commercial vehicle operation.
In part, the proposed rule fulfills a mandate under the 2021 Bipartisan Infrastructure Law.
Once the proposed changes are published, the public will have 60 days to submit comments.
This article was written by Daren Hansen of J. J. Keller & Associates, Inc.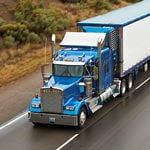 Looking for more on transportation safety?
Get the information and products you need to stay on top of industry changes and comply with regs.