Brake Safety Week dates announced
Posted June 10, 2022
It's almost time for Commercial Vehicle Safety Alliance's (CVSA's) annual Brake Safety Week, which will be held August 21-27, 2022. This year, inspectors will pay special attention to brake hoses and tubing.
Additionally, they will be checking for:
Missing, broken, loose, contaminated, or cracked parts on the brake system;
Broken springs in the spring brake housing section of the parking brake;
Holes resulting from rust or friction; and
Air leaks around brake components and lines.
Inspectors will also be verifying, among other things, that:
The air system can maintain a pressure of 90-100 psi,
Slack adjusters are the same length,
Air chambers on each axle are equal in size, and
The breakaway system on the trailer is operable.
Data from last year's International Roadcheck shows that brake systems and brake adjustment violations made up close to 40 percent of all vehicle out-of-service violations.
Inspectors across North America will be conducting North American Standard Level I and V Inspections from August 21-27, 2022. The data collected will be made available in the fall of 2022.
This article was written by Jen Loomis of J. J. Keller & Associates, Inc.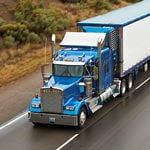 Looking for more on transportation safety?
Get the information and products you need to stay on top of industry changes and comply with regs.