OSHA: Worker safety a priority as businesses reopen
Posted June 17, 2020
As more workplaces reopen, OSHA reminds employers that worker safety remains a priority amid both coronavirus and common workplace hazards.
OSHA notes that in all phases of reopening, employers need to plan for potential hazards related to the coronavirus, as well as those stemming from routine workplace processes.
The Agency recommends employers:
Be aware that the pandemic may increase employee stress, fatigue, and distractions. These factors should be considered in planning employees' return to work to ensure operations resume in a safe and healthful manner.
Carefully plan before attempting to increase production or tasks to make up for downtime to avoid exposing employees to additional safety and health hazards.
Provide workers with refreshers on safety and health training and address maintenance issues they may have deferred during a shutdown.
Revisit and update standard operating procedures and remember that exposures to hazards may increase during shutdown and start-up periods.
Review and address process safety issues – including stagnant or expired chemicals – as part of their reopening effort.
Remember that employers are prohibited from retaliating against workers for raising concerns about safety and health conditions.
This article was written by Rachel Krubsack of J. J. Keller & Associates, Inc. The content of this news item, in whole or in part, MAY NOT be copied into any other uses without consulting the originator of the content.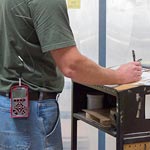 Looking for more on workplace safety?
Get the information and products you need to stay on top of industry changes and comply with regs.