EPA stops sale of pesticides falsely claiming to be effective against COVID-19
Posted June 9, 2020
The Environmental Protection Agency (EPA) issued a "Stop Sale" order to an Illinois company regarding the sale or distribution of certain pesticide products. The company made claims that are not allowed under the products' registrations regarding the products' safety and effectiveness against the virus that causes COVID-19.
The order requires the company to stop selling or distributing pesticides which EPA has determined to be misbranded, until those false or misleading claims are removed from their labels and sales materials. In order to make public health claims referencing effectiveness against SARS-CoV-2, the company must apply for and obtain approval from EPA.
In addition, the "Stop Sale" order alleges that the company made false or misleading claims that the products can be used to "sterilize" a facility which are not supported by the product registration. The company's website also stated that the products are "safe" and "not poisonous" even though the labeling required for each product includes language such as "poison," "harmful if swallowed, absorbed through the skin, or inhaled," or "causes irreversible eye damage and skin burns."
Finally, the order addressed claims that a product can be used to sterilize N95 masks using a process approved by the EPA, among other federal agencies. In fact, the product is not registered for use as a sterilant or to sterilize N95 masks.
In a similar case, EPA reported that a woman who sold an unregistered pesticide as protection against viruses such as COVID-19 has pleaded guilty to violating FIFRA. The defendant sold an unregistered pesticide through eBay, claiming that it would help protect individuals from viruses.
These cases show that consumers need to be cautious of products that make claims of controlling viruses. Consumers can visit epa.gov/coronavirus for a list of approved products. Under the Federal Insecticide, Fungicide and Rodenticide Act (FIFRA), products that claim to kill, destroy, prevent, or repel bacteria or viruses, among other things on surfaces, are considered pesticides and must go through EPA's registration process to ensure that the products perform as intended prior to their distribution or sale in commerce.
This article was written by Ed Zalewski of J. J. Keller & Associates, Inc.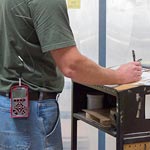 Looking for more on workplace safety?
Get the information and products you need to stay on top of industry changes and comply with regs.