Dates set for Brake Safety Week
Posted June 26, 2018
Every September — through its Brake Safety Week — the Commercial Vehicle Safety Alliance (CVSA) emphasizes the dangers of faulty brake systems on commercial motor vehicles (CMVs). The annual enforcement campaign will be held September 16-22, 2018 throughout North America.
During Brake Safety Week:
CVSA-certified roadside inspection personnel will perform primarily North American Standard Level I Inspections. A Level I Inspection is a 37-step procedure that addresses both driver operating requirements and vehicle mechanical fitness.
Law enforcement agencies will use outreach to educate drivers, mechanics, owner-operators, and others on brake maintenance, operation, and performance.
Brake inspection procedures
The criteria used when inspecting CMV brakes during the campaign will be no different than any other week of the year. The event, however, allows motor carrier enforcement personnel the opportunity to capture data on brake violations and call attention to the dangers of faulty brake systems. In 2017, CVSA held a one-day brake safety initiative that resulted in 14 percent of all CMVs inspected to be placed out of service for brake-related violations.
During a typical roadside inspection, brake-system components will be examined to identify:
Loose or missing parts;
Air or hydraulic fluid leaks;
Defective rotor conditions;
Measurement of pushrod travel;
Mismatched air chamber sizes across axles;
Air reservoir integrity and mounting;
Worn linings, pads, drums or rotors;
Required brake-system warning devices; and
Other brake-system components.
Vehicles with defective or out-of-adjustment brakes will be placed out of service.
Twelve jurisdictions will use performance-based brake testing (PBBT) equipment. PBBTs measure the cumulative brake force for the entire vehicle and divide it by the total vehicle weight to determine overall vehicle braking efficiency. The minimum braking efficiency for trucks is 43.5 percent, required by 49 CFR 393.52.
---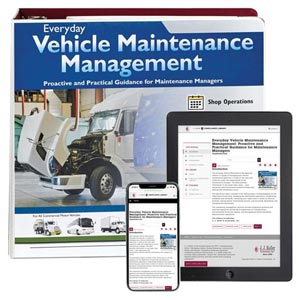 J. J. Keller's Everyday Vehicle Maintenance Management Manual helps maintenance managers improve CSA scores, avoid fines, reduce the risk of costly breakdowns and accidents, and contain costs.
---
J. J. Keller's FREE Transportation SafetyClicks™ email newsletter brings quick-read safety and compliance news right to your email box.