Updated heat app helps workers weather the heat
Posted June 13, 2017
OSHA and the National Institute for Occupational Safety and Health (NIOSH) recently redesigned the Heat Safety Tool mobile app. The free app determines heat index values, a measure of how hot it feels to workers, based on temperature combined with humidity.
The app is especially useful for outdoor workers who are exposed to hot and humid conditions, such as construction workers, landscapers, agricultural workers, and others. NIOSH encourages employers and workers to check the app before working outdoors in the summer heat. The app provides information on what precautions to take to stay safe at the worksite.
According to OSHA, more than 65,000 people seek medical attention for extreme heat exposure every year. In 2014, 2,630 workers reported heat-related illnesses, and 18 workers died from heat stroke and related causes.
The updated Heat Safety Tool app uses a mobile phone's geolocation capabilities to pull temperature and humidity data from National Oceanic and Atmospheric Administration satellites. The app then determines the current risk level (minimal, low, moderate, high, or extreme) and forecasts the hourly heat index throughout the workday. Employers can use this information to adjust work schedules and workloads as needed to protect workers.
The app also provides users with specific NIOSH and OSHA recommendations for protective actions based on the calculated risk level, including information on staying cool, proper hydration, and scheduling rest breaks.
Some examples of NIOSH recommendations to protect workers from heat hazards include:
Limit time in the heat and/or increase recovery time in a cool environment.
Increase the number of workers per task.
Train supervisors and workers about heat stress, including symptoms of heat-related illness, first aid, and risk factors.
Use a buddy system (workers observe each other for signs of heat stress).
Provide adequate amounts of cool, potable water near the work area and encourage workers to drink frequently.
Use a heat alert program whenever the weather service forecasts a likely heat wave.
Develop a plan to acclimatize workers to hot weather and to increase physical fitness.
For more information on the updated app, visit NIOSH's website.
---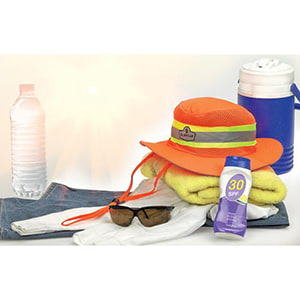 J. J. Keller's Heat Stress - Online Training Course helps employees understand the dangers of heat stress and how to prevent and respond to a heat stress emergency.
---
J. J. Keller's FREE Workplace SafetyClicks™ email newsletter brings quick-read workplace safety and compliance news right to your email box.