Tracking FMLA leave can help employers avoid litigation
Posted June 8, 2017
While it may seem like a given that employers should keep track of how much leave an employee has taken under the Family and Medical Leave Act (FMLA), some employers don't take it very seriously. Those that do track the leave know when an employee will exhaust his or her 12 weeks of leave and can work out some arrangements with the employee at the end of leave. These employers may also get a jump on initiating the interactive process under the Americans with Disabilities Act (ADA) if the employee might need more leave beyond FMLA leave.
Some employers, however, take a more laid back stance on tracking FMLA leave, and they may end up defending their actions.
Case in point
A long-time employee, Marty, contracted methicillin-resistant staphylococcus aureus (MRSA), and he began leave on September 23, 2013. While on leave, he kept his employer up to date regarding his medical status. During such contact, Marty was not provided any information about how much FMLA leave he used or had left.
Marty eventually recovered from his illness and he contacted his employer during the week of July 14, 2014, indicating that he would return to work on August 1. On July 29, however, someone from human resources called Marty and informed him that he was terminated, that his FMLA leave expired sometime in December 2013, and this was the first time HR had known that Marty's FMLA leave had expired. This was the first time Marty had been informed of his FMLA status. Marty thought the termination and the mention of FMLA expiring in the same communication was somewhat suspicious.
Marty filed a lawsuit, arguing that he was denied his FMLA benefits when the company failed to notify him that his FMLA leave had expired, and then terminated him. He also argued that errors in tracking the leave resulted in denying him the full extent of his FMLA benefits.
The employer argued that it provided all the FMLA leave it was required to and that the law does not mandate that an employer notify an employee that he used up all his FMLA leave.
While it was not clear whether the employer provided Marty with a required eligibility/rights & responsibilities notice or a designation notice, the court pointed that it did not provide the employee with the amount of leave counted against the employee's FMLA leave entitlement, and failure to follow the notice requirements could constitute an interference with an employee's FMLA leave. Failure to provide such notice, however, does not give rise to liability unless the employee can show that he or she was prejudiced by the lack of notice. In this case, Marty was provided well over his 12 weeks of FMLA leave, so his interference claim failed.
The court also took note that the employer did not even appear to know that Marty's FMLA leave expired until the day before the termination call. The employee's argument here, however, also failed, since he was no longer on FMLA leave when he was terminated; his FMLA leave was long over. Reinstatement after a 45-week leave of absence is not a right protected by the FMLA.
While the employer did not lose this case, it still ended up defending its actions, a task it could have avoided if it had provided the employee with the appropriate notices, tracked leave, and informed the employee of when the leave was to expire.
Baker v. Goldberg Segalla, LLP, W, D. NY, No.16-cv-613, April 4, 2017
This article was written by Darlene Clabault of J. J. Keller & Associates, Inc.
---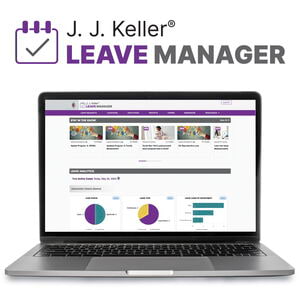 J. J. Keller® FMLA Manager™ Service makes leave tracking easier while complying with the latest federal & state regulations.
---
J. J. Keller's FREE HRClicks™ email newsletter brings quick-read human resources-related news right to your email inbox.