Survey indicates more than a quarter of private dental practices don't have a bloodborne pathogen plan
Posted June 9, 2017
The National Institute for Occupational Safety and Health (NIOSH) says that more than a quarter of private dental practices have a long way to go to protect their employees from bloodborne pathogens (BBPs).
According to a web-based survey conducted by NIOSH and the Organization for Safety, Asepsis and Prevention (OSAP), more than 25 percent of private dental practices that responded to the survey did not have a written site-specific BBP exposure control plan. The study was published in the June edition of the Compendium of Continuing Education in Dentistry.
The survey asked private dental practices if they were aware of the OSHA requirement for the written control plan and if they had a written plan addressing all the required elements. The dental practices were also asked to identify barriers to implementation of a plan.
OSHA's BBP standard covers all dental healthcare settings where dental healthcare personnel could be exposed to blood or other potentially infectious body fluids during the performance of their jobs. The standard describes precautionary practices to protect these workers from pathogens such as the hepatitis B virus, hepatitis C virus, and human immunodeficiency virus. These viruses can be transmitted from patient to dental healthcare provider or patient to patient via contact with blood or bodily fluids.
Survey findings show that many participating private dental practices were unaware of the requirement to have a written exposure control plan or did not adhere to all the required elements of the plan if they had one.
Other key findings from the survey indicate that:
28 percent did not have a written site-specific ECP, including 4 percent who didn't know whether they had one;
50 percent without an ECP had no plans to implement one in the next 12 months;
20 percent with a plan had not implemented all of the elements; the primary reasons for not having all elements was "not aware it was needed" (50 percent), "lack of expertise" (47 percent) and "lack of time" (36 percent);
24 percent with a plan had not reviewed it within the past year;
65 percent did not use needles with sharps injury prevention features; and
15 percent did not offer HBV vaccine to employees and another 8 percent did not know if they did or not.
NIOSH cautions that a relatively low response rate to the survey means the findings should not be generalized across all private dental practices. However, the findings should prompt all dental practices to evaluate whether they are complying with the requirements of OSHA's BBP standard.
Further, NIOSH says this study is one of the first to examine the extent of awareness and compliance with OSHA's BBP standard in private dental practices. The findings support the need for increased continuing education and training on ways to prevent occupational exposure to BBPs in dental settings.
Find the paper online at www.ncbi.nlm.nih.gov, or www.dentalaegis.com.
---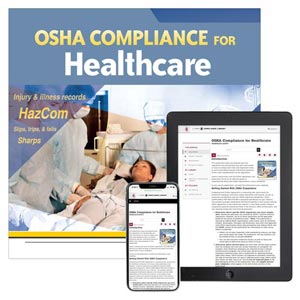 J. J. Keller's OSHA Compliance for Healthcare Manual serves as an effective reference for implementing safety and health requirements in your workplace.
---
J. J. Keller's FREE Workplace SafetyClicks™ email newsletter brings quick-read workplace safety and compliance news right to your email box.