Health, wellness benefits most likely to increase, SHRM survey finds
Posted June 20, 2017
Health and wellness offerings are the benefits an organization was most likely to increase over the past 12 months, according to the results of the 2017 Employee Benefits Survey released June 19 by the Society for Human Resource Management (SHRM).
Health benefits grew at 22 percent of organizations surveyed, while wellness benefits increased at 24 percent, survey results showed. The results were released at the 2017 SHRM Annual Conference and Exposition in New Orleans, which has drawn more than 15,000 human resources professionals and continues through Wednesday.
A tightening recruiting environment is likely spurring the benefits increase, noted Shonna Waters, vice president of research for SHRM.
"We found this year that about a third of organizations are responding to a tight talent market by taking steps to address the employee value proposition through increased benefits," Waters said at a press conference at the convention.
Two-thirds of organizations experienced recruiting difficulty and skills shortages for certain jobs last year. HR professionals indicated that offering more flexible work arrangements was the most effective strategy for helping with recruiting.
Popular flexible work benefits include telecommuting, offered by 62 percent of organizations, and flextime, offered by 57 percent.
Over the past five years, the benefit that has seen the most growth is standing desks. It was offered by 13 percent of employers in 2013, and 44 percent this year.
Overall benefits decreased at six percent of organizations, primarily for reasons relating to financial stability such as increasing benefit costs or poor organizational performance.
The benefits survey also found that:
A general wellness program for employees is offered by 59 percent of organizations.
An onsite fitness center is provided by 25 percent of organizations, while 25 percent offer an offsite fitness center membership subsidy or reimbursement.
More companies are offering health coverage to part-time employees. In 2017, 34 percent offered the benefit, compared to 27 percent in 2014.
95 percent of employers offer health care coverage to opposite sex spouses, and 85 percent offer it to same-sex spouses.
30 percent of organizations provide paid maternity leave beyond what is covered by short-term disability or state law. This is an increase from 26 percent in 2016.
Two-thirds of women use all paid maternity leave. Female employees are almost twice as likely as men to use all parental or family leave.
Casual dress is acceptable every day at 49 percent of companies.
An on-site lactation room is available at 42 percent of organizations.
The number of organizations offering financial advice increased to 49 percent, compared to 36 percent in 2016.
More companies are satisfying workers' craving for a cup of coffee. Free coffee is offered at 80 percent of companies, compared to 72 percent in 2013.
Among travel perks, 66 percent of employers allow workers to keep hotel points, and 65 percent allow them to keep frequent flyer miles.
Results were compiled from a survey of 3,227 randomly selected HR professionals conducted in January and February 2017.
This article was written by Terri Dougherty of J. J. Keller & Associates, Inc.
---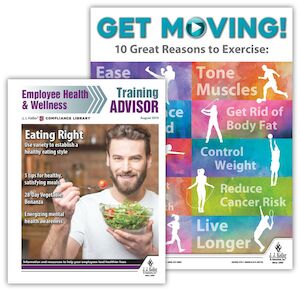 J. J. Keller's LivingRight®: Health & Wellness Awareness Program offers an easy way to help control healthcare costs and promote employee wellness.
---
J. J. Keller's FREE HRClicks™ email newsletter brings quick-read human resources-related news right to your email inbox.