EPA postpones ozone designations for one year
Posted June 8, 2017
Letters from EPA head Scott Pruitt to the nation's governors said the agency is extending an ozone NAAQS deadline by one year. EPA says this action will give states more time and flexibility to develop their air quality plans.
Under the Clean Air Act, EPA must set National Ambient Air Quality Standard (NAAQS) for outdoor air pollutants that are harmful to public health and the environment. In 2015, EPA revised the air quality standard for ground level ozone at 70 parts per billion (ppb), down from 75 ppb. Areas that are not able to meet the new standard are considered to be in "nonattainment" for the 2015 ozone NAAQS. Nonattainment areas face consequences such as increased regulatory burdens, difficulties in getting permits for building projects, and increased costs to businesses.
Under the 2015 final rule, the deadline for states to submit their initial decisions on areas of nonattainment was October 2017. The Pruitt letters promise that EPA will delay that initial designation date to 2018.
EPA will take time to review the ozone NAAQS
EPA says it will take this time to better understand "some lingering, complicated issues so that air attainment decisions can be based on the latest and greatest information." Further, the additional year will provide the agency time to review the 2015 ozone NAAQS before states begin to set initial area designations.
EPA is evaluating a "host of complex issues that could undermine associate compliance efforts by states and localities." These issues include:
Fully understanding the role of background ozone levels;
Appropriately accounting for international transport; and
Timely consideration of exceptional events demonstrations.
The Administrator also said that pursuant to language in the FY2017 omnibus bill, he would establish an Ozone Cooperative Compliance Task Force to develop "additional flexibilities" for states to comply with the ozone standard.
---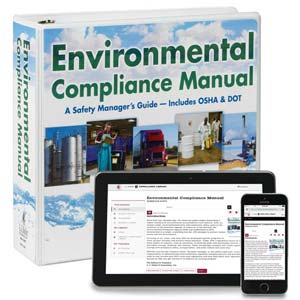 J. J. Keller's Environmental Compliance Manual is packed with easy-to-understand information on regulations, environmental issues and compliance.
---
J. J. Keller's FREE Workplace SafetyClicks™ email newsletter brings quick-read workplace safety and compliance news right to your email box.