PBGC issues proposed rule to facilitate mergers of multiemployer pension plans
Posted June 8, 2016
The Pension Benefit Guaranty Corporation (PBGC) is proposing a rule to facilitate mergers of multiemployer pension plans. Mergers are a way some plans can help preserve and protect the benefits earned by employees and retirees.
The proposed rule was published in the June 6 Federal Register. It implements changes under the Multiemployer Pension Reform Act of 2014 (MPRA). PBGC has authority to facilitate plan mergers by providing technical assistance, or financial assistance if necessary to avoid plan insolvency.
The proposed rule would also reorganize and update the existing regulation.
Comments on the proposed rule must be submitted on or before August 5, 2016. Comments, identified by Regulation Identifier Number (RIN) 1212–AB31, may be submitted to the Federal eRulemaking Portal.
---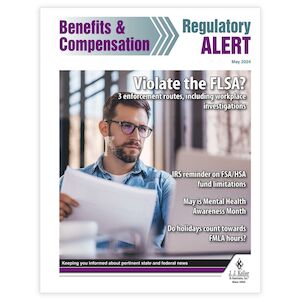 J. J. Keller's BottomLine Benefits & Compensation is an 8-page, monthly newsletter that addresses key issues relating to benefits and compensation programs.
---
J. J. Keller's FREE HRClicks™ email newsletter brings quick-read human resources-related news right to your email inbox.