Warning letters work, FMCSA report shows
Posted May 19, 2023
Warning letters sent to motor carriers whose Compliance, Safety, Accountability (CSA) scores are high are helping to reduce crashes, according to new estimates from the Federal Motor Carrier Safety Administration (FMCSA).
In a recent report, the agency estimates that almost 6,250 crashes were prevented as a direct result of the nearly 25,600 warning letters sent in fiscal year 2019 alone. That's about one crash prevented for every four warning letters.
The FMCSA says the letters also likely prevented nearly 3,400 injuries and saved 183 lives.
The findings reaffirm earlier research from the University of Michigan, which discovered that over 80 percent of motor carriers improved their CSA scores within 12 months of receiving a warning letter.
Warning letters are issued automatically to motor carriers whose CSA scores go above a certain threshold, usually between 65 and 80 percent for most carriers (but lower for passenger and hazmat carriers).
Motor carriers on the receiving end of a warning letter are not expected to reply, but they should:
Review the area(s) that are out of compliance,
Access and review their CSA safety data, and
Take action to improve their safety performance.
Ignoring a warning letter could lead to additional enforcement actions, including an audit.
The FMCSA estimates that its enforcement actions as a whole in fiscal year 2019 prevented 8,379 crashes, 4,519 injuries, and 246 fatalities.
This article was written by Daren Hansen of J. J. Keller & Associates, Inc.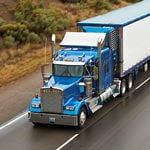 Looking for more on transportation safety?
Get the information and products you need to stay on top of industry changes and comply with regs.