Case: Saying you're working from home is not notice of the need for leave
Posted May 26, 2022
Connor had yet to meet his production goals, to the point he had been given a warning. At one point, his wife fell and required surgery. He informed Mina, his boss, about the situation and said he would be out for a significant amount of time, and that he would be working from home. Mina did not mention FMLA leave.
Connor did not think to take any PTO in the six weeks following his wife's surgery because he was working. No one suggested that Connor take leave.
During the leave, the company began contemplating Connor's termination, but he was given more time to improve.
Months later, Connor's wife underwent another surgery. Connor told Mina about it and explained that he would again work from home.
The following year, Connor was terminated for not meeting his goals, and he sued, claiming the company violated his FMLA rights. He argued that an employee provides sufficient notice under the FMLA regardless of whether the employee actually seeks leave or indicates an intention to take it, so long as he conveys a circumstance to his employer that might qualify for FMLA leave. Therefore, when he told the employer that his wife had surgery and he needed to work from home to care for her, that was notice.
The employer argued that Connor did not provide adequate notice that he intended to take time off due to his wife's surgeries because he said he would be working, just from home. Connor admitted that he did not think to take PTO he earned because he was working.
The court held that an employee who says that he intends to work while out of the office has not conveyed to his employer that he is unable to work or that he seeks time off. Saying you're working from home does not trigger an employer's FMLA obligations.
Friends, it's important to not only recognize what a notice of the need for leave can be, but also what it might not be. When an employee is working, regardless of where, that time is not FMLA leave. Therefore, when employees say they will be working from home, you need not consider it notice of the need for leave. If, however, employees indicate that they will be working only part of the time, you should consider it notice, as employees are working only part of the time.
Conway v. Connectone Bank; Robert Murphy; Third Circuit Court of Appeals, No. 21-1141, April 5, 2022.
This article was written by Darlene Clabault of J. J. Keller & Associates, Inc.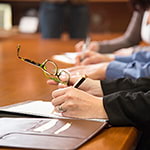 Looking for more on HR compliance?
Get the information and products you need to stay on top of industry changes and comply with regs.