OSHA: Adverse reactions to COVID-19 vaccine do not need to be recorded
Posted May 28, 2021
In a recent FAQ, OSHA now says that employers do not need to record adverse reactions to the COVID-19 vaccine. In April, the agency said that employers only had to record adverse reactions if they required the employee to get the vaccine (and the adverse reaction met the general recording criteria, e.g., medical treatment beyond first aid, lost worktime, etc.).
The FAQ states in part that "OSHA does not wish to have any appearance of discouraging workers from receiving COVID-19 vaccination, and also does not wish to disincentivize employers' vaccination efforts. As a result, OSHA will not enforce 29 CFR 1904's recording requirements to require any employers to record worker side effects from COVID-19 vaccination through May 2022."
The agency says it will reevaluate its position at that time to determine the best course of action moving forward.
This article was written by Rachel Krubsack of J. J. Keller & Associates, Inc.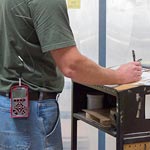 Looking for more on workplace safety?
Get the information and products you need to stay on top of industry changes and comply with regs.