Cal/OSHA proposes broad changes to its emergency COVID-19 rule
Posted May 14, 2021
California OSHA (Cal/OSHA) has proposed broad changes to its COVID-19 emergency temporary standard, which will be considered at a standards board meeting on May 21. Some of the changes include:
Defining "face covering" to mean "a surgical mask, a medical procedure mask, a respirator worn voluntarily, or a tightly woven fabric or non-woven material of at least two layers. A face covering has no visible holes or openings and must cover the nose and mouth. A face covering does not include a scarf, ski mask, balaclava, bandana, turtleneck, collar, or single layer of fabric."
Defining "fully vaccinated" to mean the employer has documentation showing that the person received, at least 14 days prior, either the second dose in a two-dose COVID-19 vaccine series or a single-dose COVID-19 vaccine.
A new training requirement for vaccine information.
Changing physical distancing requirements for fully vaccinated employees.
An updated definition of "place of employment" to clarify that the standard does not apply to remote workers.
If the proposal is adopted by the Board, it will be submitted to the Office of Administrative Law (OAL). Upon submission, OAL will have ten calendar days to review and make a decision on the proposed emergency regulation. If approved, OAL will file the emergency regulation with the Secretary of State, and the emergency regulation will become effective for 180 days, with possible extensions. Within the effective period, the Board may proceed with a regular rulemaking action, including a public comment period.
This article was written by Rachel Krubsack of J. J. Keller & Associates, Inc.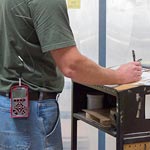 Looking for more on workplace safety?
Get the information and products you need to stay on top of industry changes and comply with regs.