New hours-of-service rules arrive Monday
Posted May 28, 2020
New hours-of-service rules from the Federal Motor Carrier Safety Administration (FMCSA) — as announced on May 14 — are slated for publication in the Federal Register on Monday, June 1st.
Their official publication starts a 120-day countdown to when the rules will go into effect. This means drivers and motor carriers will need to comply with the new rules starting September 29, 2020.
The June 1 publication date also sets off a 30-day countdown for opponents of the new rules to petition the FMCSA to change them. Those petitions will be due by July 1, 2020.
Four changes
The new rules will include four significant changes for interstate truck and bus drivers:
Revisions to the 30-minute break rule for truck drivers so they can remain "on duty" for their breaks and not have to take a break until completing eight hours of driving time, rather than consecutive time.
Revisions to the 100-air-mile short-haul exception to lengthen the maximum on-duty period from 12 to 14 hours and extend the distance limit within which the driver may operate from 100 air miles to 150 air miles.
Revisions to the sleeper-berth provisions to allow truck drivers to split their required 10 hours off into two periods, one being at least 7 hours in a sleeper berth and the other being at least 2 hours off (e.g., a 7/3 or 8/2 split). In addition, neither rest period will count against the driver's 14-hour driving window.
Changes to the "adverse driving conditions" exception to extend by two hours the maximum window of time during which driving is allowed after a driver encounters unexpected weather or traffic conditions.
This article was written by Kathy Close of J. J. Keller & Associates, Inc.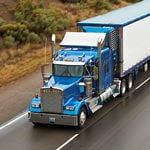 Looking for more on transportation safety?
Get the information and products you need to stay on top of industry changes and comply with regs.