Ready, set, enforce your class action waiver
Posted May 23, 2018
In resolving a split among circuit courts, the U.S. Supreme Court has overturned the National Labor Relations Board's (NLRB) position that class and collective action waivers in employment arbitration agreements violate employees' rights under the National Labor Relations Act (NLRA). Therefore, employers may require employees to enter into arbitration agreements that contain waivers of the ability to participate in a class action lawsuit.
The Seventh and Ninth Circuits had held that class action waivers in mandatory arbitration agreements violate the NLRA, as they restricted employees' right to engage in concerted activity. The Fifth, Second, and Eighth Circuits, on the other hand, rejected the NLRB's ruling, holding that arbitration agreements requiring employees to submit their employment claims to individual arbitration (as opposed to class or collective arbitration) were enforceable.
The Supreme Court, agreeing with the Fifth, Second, and Eighth Circuits, ruled that the NLRA does not grant employees the right to engage in class or collective actions as a right to bargain collectively and organize unions.
One of the issues involved the Federal Arbitration Act (FAA) which enforces agreements to arbitrate in accordance with their terms. In its position, however, the NLRB interpreted the NLRA along with the FAA, but it does not enforce the FAA. Such interpretation is to be left to the courts, not a government agency.
Arbitration agreements generally require employees and employers to mutually agree that any dispute between them be resolved through arbitration, rather than in court. Until now, such agreements could include requirements that employee claims would be heard only on an individual basis and not in a class or collective action. Including the latter posed risks for employers, based on court rulings and the NLRB's stance.
Therefore, the Supreme Court's ruling makes clear that employers may require as a condition of employment that employee to enter into arbitration agreements that contain class or collective action waivers as well as on an individual basis.
This article was written by Darlene M. Clabault, SHRM-CP, PHR, CLMS, of J. J. Keller & Associates, Inc.
---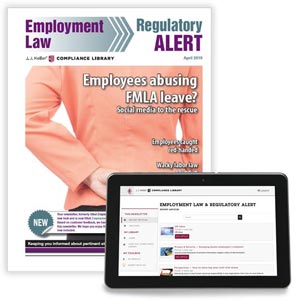 J. J. Keller's Employment Law Today newsletter explains why you need to care, what you need to do and how your business could be affected by HR industry news.
---
J. J. Keller's FREE HRClicks™ email newsletter brings quick-read human resources-related news right to your email inbox.