NIOSH warns firefighters, healthcare providers about risk of rhabdomyolysis
Posted May 25, 2018
The National Institute for Occupational Safety and Health (NIOSH) issued four new publications in May on firefighter safety. All four documents address the risks of firefighters developing rhabdomyolysis, a serious and sometimes fatal condition that can develop from exposure to heat and prolonged, intense exertion.
The four publications are:
Rhabdomyolysis in Structural Fire Fighters: A Patient Population at Risk
What Structural Fire Fighters Need to Know about Rhabdomyolysis
Rhabdomyolysis in Wildland Fire Fighters: A Patient Population at Risk
What Wildland Fire Fighters Need to Know about Rhabdomyolysis
NIOSH says healthcare providers can prevent debilitating consequences in firefighters by being alert to the signs and symptoms of rhabdomyolysis. The condition can be misdiagnosed as heat stress or dehydration, as the presenting signs and symptoms can be similar.
Elements of fire response and training associated with an increased risk of the condition are:
Carrying heavy loads, such as gear and air packs weighing up to 60 pounds, firefighting tools weighing up to 80 pounds, and incapacitated people;
High levels of exertion, such as victim rescue, and climbing ladders and stairs with heavy gear;
Prolonged levels of exertion;
Rigorous training and physical fitness tests;
Exposure to heat from the fire, the environment, and physical effort.
Rhabdomyolysis occurs from the breakdown of damaged muscle tissue, which releases proteins and electrolytes into the blood. This release can damage the heart and kidneys and result in permanent disability and even death. Signs and symptoms of the condition include:
Muscle cramps, aches, or pains that are more severe than expected;
Inability to complete a workout routine due to feeling unusually tired; and
Dark-colored urine (tea- or cola-colored).
NIOSH cautions that symptoms of rhabdomyolysis do not always appear immediately after exertion, but may develop several days after the muscle is damaged. Firefighters should be sure to let their healthcare providers know about their jobs and their increased risk for rhabdomyolysis.
---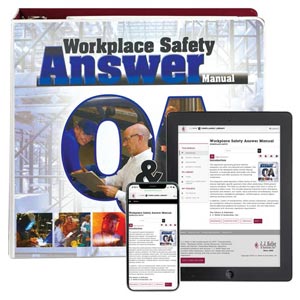 J. J. Keller's Workplace Safety Answer Manual provides a single-source manual that offers quick answers to a wide array of workplace safety questions.
---
J. J. Keller's FREE Workplace SafetyClicks™ email newsletter brings quick-read workplace safety and compliance news right to your email box.