Memo describes OSHA's enforcement policy on the PSM retail exemption
Posted May 18, 2018
A newly released memorandum from Thomas Galassi, Director of OSHA's Directorate of Enforcement Programs, lays out the Agency's enforcement policy for the process safety management (PSM) retail exemption.
The PSM standard contains requirements for preventing or minimizing toxic, fire, and explosion hazards associated with catastrophic chemical releases. While the standard does not apply to "retail facilities," it does not define the term "retail." On September 23, 2016, the U.S. Court of Appeals for the District of Columbia Circuit nullified a memo in which OSHA interpreted the term. In response to the Court's decision, OSHA's new memo lists the Agency's PSM enforcement policy guidance.
OSHA will not issue citations under the PSM standard for employers in the following North American Industry Classification System (NAICS) codes:
424510 Grain and field bean merchant wholesalers
424590 Other farm product raw materials merchant wholesalers
424910 Farm supplies merchant wholesalers
OSHA says it expects employers in these industries to comply with other applicable OSHA standards, including 29 CFR 1910.109(i) (storage of ammonium nitrate); 29 CFR 1910.111 (storage and handling of anhydrous ammonia); 29 CFR 1910.120 (hazardous waste operations and emergency response); and 29 CFR 1910.1200 (hazard communication). The memo emphasizes the importance of using §1910.111 to address similar types of ammonia hazards as the PSM standard and says OSHA will seek to maximize compliance among covered employers through strong enforcement.
For all other industries subject to the PSM standard, the memo tells compliance officers to exercise enforcement discretion using the explanation in the preamble to the PSM standard, which states:
"With respect to the exclusion of retail facilities … OSHA believes that such facilities did not present the same degree of hazard to employees as other workplaces covered by the proposal. Therefore, OSHA should not require a comprehensive process safety management system in addition to other applicable OSHA standards addressing flammable and combustible liquids, compressed gases, hazard communication, etc., for retail facilities…
Certainly highly hazardous chemicals may be present in [retail] … operations. However, OSHA believes that chemicals in retail facilities are in small volume packages, containers and allotments, making a large release unlikely. OSHA received few comments disagreeing with the exemption of retail facilities (e.g., gasoline stations). OSHA has retained the exemption in the final rule."
---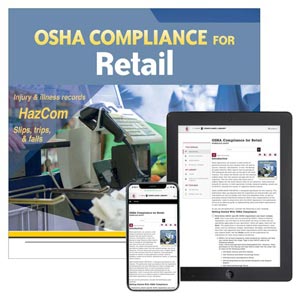 J. J. Keller's OSHA Compliance for Retail Manual explains OSHA compliance in plain language based on the retail industry's top compliance concerns and most frequent hazards.
---
J. J. Keller's FREE Workplace SafetyClicks™ email newsletter brings quick-read workplace safety and compliance news right to your email box.